Administrator
Staff member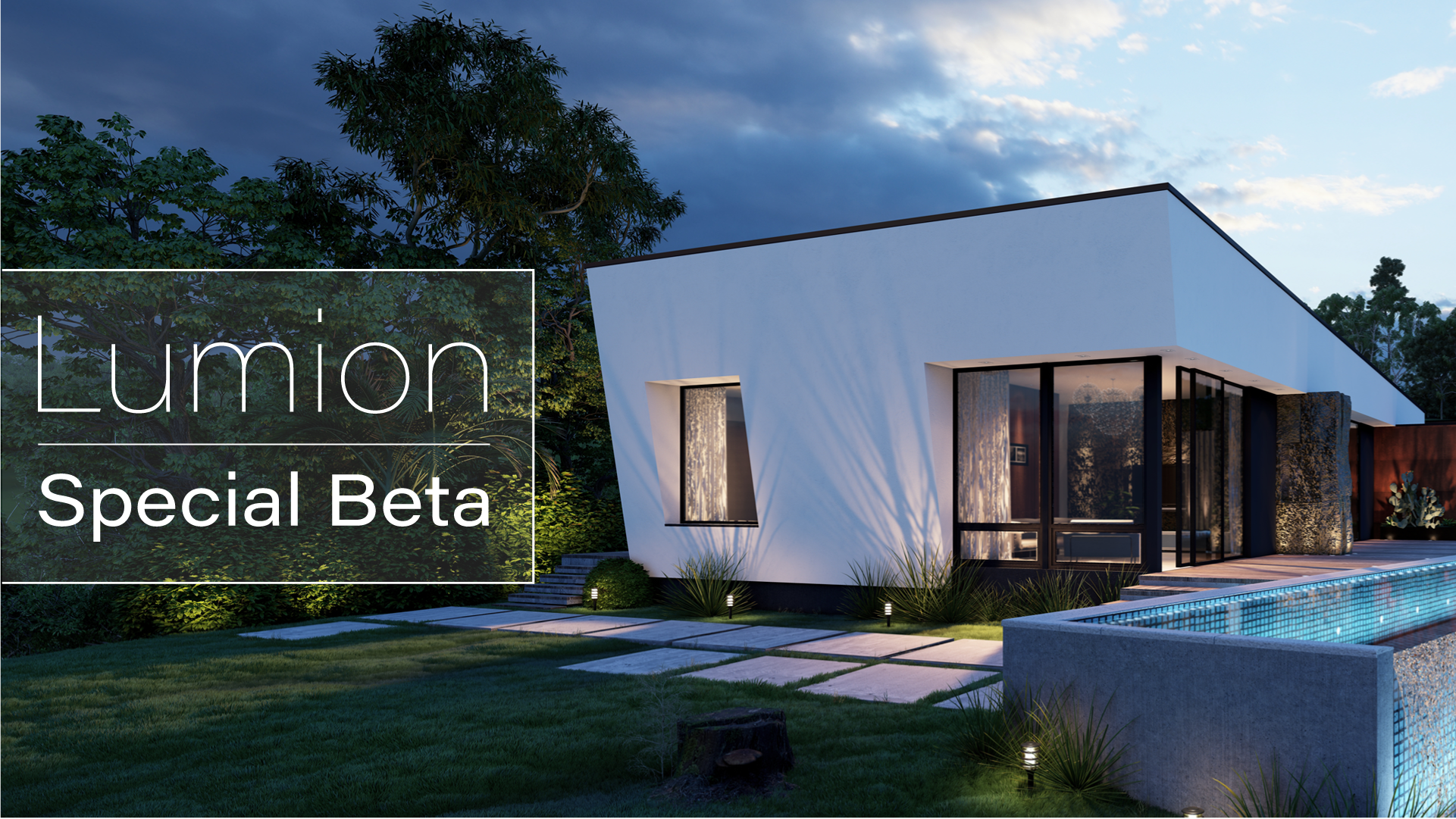 *Model design by Ten Over Studio
​
Thanks for your interest in beta testing Lumion.
The sign-up period is now over.
This forum thread will remain here for reference until the 31st of October.

_______________________________________________________
​
We're experimenting with Lumion's engine. Want to take it for a spin?
We'd like to ask for your help in testing a very special (and experimental) project we've been working on. We're calling it — the Lumion Special Beta test.
We love experimenting with new technology and, in this beta, we're going to try some new things. Our goal is to update Lumion's underlying 3D rendering engine and lay the groundwork for future development,
so please note there are no new features or functionality in this specific beta version.
Instead, we want to make sure that all of Lumion's normal functionality performs exactly as it should with the wo
rk we did under the hood.
To get the best results from this experiment, we want to extend an invitation to the community and ask you all for your input in a one-time Lumion Special Beta test. Your feedback and data will help guide our decision-making.
If you would like to help us and share your thoughts, check to see if you are eligible
and apply
. Please continue reading for eligibility and other important details. As always, we appreciate your kind support!
How do I apply for the Lumion Special Beta?
The Lumion Special Beta version is a separate license with its own download client. It's not a hotfix or a patch, which means you will have two separate versions of Lumion on your desktop computer or laptop PC.
If you would like to participate in the Lumion Special Beta test,
please click here
and fill in a few details about yourself and your license. It won't take longer than two minutes.
Our team will then review your information. If you meet the criteria for the beta test, we will send you an invitation email within two weeks.
As much as we would like to, we can't invite everyone into the Lumion Special Beta test.
Only people with a valid (non-trial) license or a student license are eligible to sign up. Your valid license must already be registered to your
Lumion Account
.



How does the Lumion Special Beta test work?
If you are eligible to participate in the Lumion Special Beta test, three things will happen:
We will send you an email welcoming you to the test.
You will be able to download your Lumion Special Beta version from your existing Lumion Account.
We will send you surveys to gather your feedback.
The testing period will run until October 1st, meaning you can experiment and use the Lumion Special Beta version as much as you like until that time. On October 1st, however, we will be shutting down all of the Lumion Special Beta versions and you won't be able to use the beta any longer (this does not impact any other license you may have).
One final thing — we will also be releasing a patch that you can add to Lumion 10.5 (if you have it). This will help us compare the Lumion Special Beta with the commercial release, and it's entirely optional.
Important!
Please note that any work done in the Lumion Special Beta
CANNOT
be opened in Lumion 10.5 or previous versions. Please use your valid commercial or student license for projects in production, and use the special beta for test projects or other projects that haven't been moved into production. Once the test is over on October 1st, 2020, you won't be able to open any projects saved from the Lumion Special Beta again.
Last edited by a moderator: